Can You Log in Snapchat on Two Devices
Question:
If you try to log into someone'southward Snapchat, will they know?
Yes, it is possible. If yous want to use the account and password credentials to log into someone's Snapchat, then they volition be logged out immediately. Basically, Snapchat notifies while information technology is logged into on ii devices. So can you log into a Snapchat without them knowing?
Aye! That's why nosotros recommend you to use some third-political party tools to sign into someone's Snapchat from another device without them getting a notification.
This post volition tell yous
how to get into someone'southward Snapchat without logging them out. Let's check it out!
All-time Way to Log into Someone's Snapchat without Logging Them out
Can you lot exist logged in on Snapchat on two devices? If I log into Snapchat on another device, will it notify me?
The thing is that if y'all want to
spy on someone'due south Snapchat
account, in order to check all those conversation history, snaps, contacts and others, you don't accept to actually log into their account. Simply for that, yous have to use professional spy apps like
KidsGuard Pro for Android.
Buy Now View Demo
It is really helpful and it is able to hack into someone's Snapchat account without password. Yous are simply required to install it on the target device for once, and then configure the app and monitor device activity with ease from its online dashboard.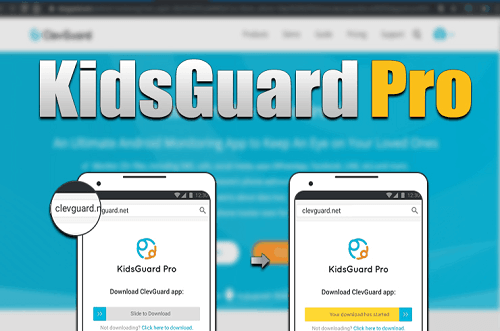 How to Log into Someone Else'southward Snapchat with KidsGuard Pro?
KidsGuard Pro for Android monitors the whole Android device including Snapchat with its 100% hidden feature.
When the target user opens Snapchat on their phone,
KidsGuard Pro Snapchat Monitoring
goes to work. Information technology records every keystroke that is typed on Snapchat to read the messages, store shared multimedia, capture the current screen activity, intercept the app notification and allow you check the incoming messages, etc.
Surely, KidsGuard Pro for Android won't really deed like truly logged in to the targeted Snapchat business relationship, which ways some of the data are inaccessible. Only information technology is
safe and hidden
enough that you lot can check nigh of the Snapchat data without letting other knows.
NOTE:
KidsGuard Pro supports Android and iOS devices. Here we will introduce KidsGuard Pro for Android in detail including its features and installation steps.
If your target person is an iOS user, you tin know more features almost KidsGuard Pro for iOS.
How to Log into Someone's Snapchat without Them Knowing
Desire to
log into someone's Snapchat without knowing
and monitoring all the contents?
The merely way is to use some third-party Snapchat spying apps, because it can be definitely detected if you log into the business relationship with their user proper name and password.
After going through the details, you should have realized that the best answer to how to get into someone else's Snapchat is using KidsGuard Pro spy app, even afterwards considering its limitations.
Then, now let'southward go into the setup and installation of the app.

Step one.

First, click the "Buy Now" push button to create an account with a valid email address and get its valid license.
Buy Now View Demo

Footstep two.

Then, become concord of the target device and visit
www.clevguard.net
to download KidsGuard Pro for Android app. Install and configure the app following step by stride instructions displayed on the app interface.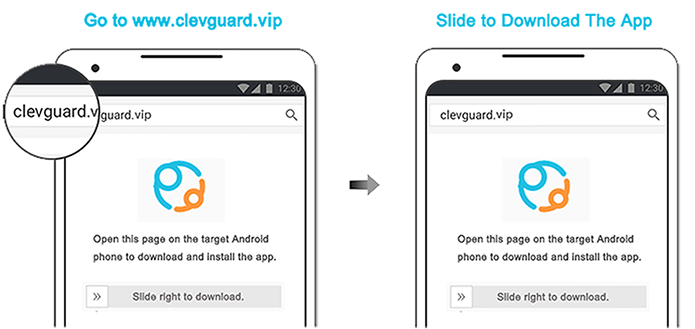 Step 3.

The app will disappear later you successfully install it. Now log in to the KidsGuard Pro web portal from your device and sync the information. Then, click on Snapchat option nether Social Apps. Yous will be able to view all the data related to the target Snapchat account.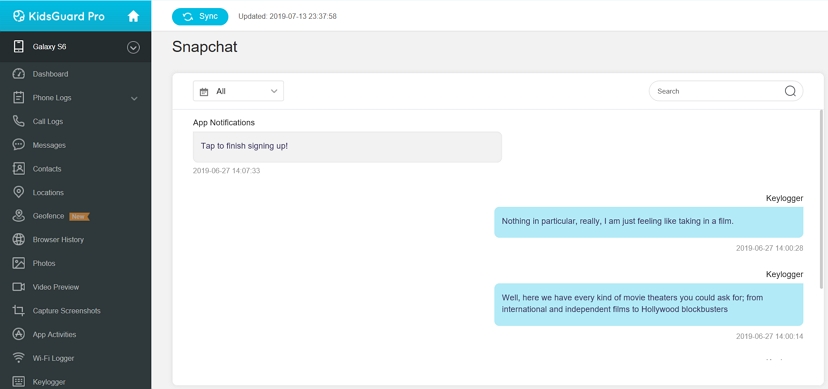 This is
how to log into Snapchat without them knowing
if using KidsGuard Pro for Android. So far, this is the near effective way to monitor Snapchat data without directly accessing the targeted account. As you can run across, the steps are very elementary, fifty-fifty a beginner tin can handle them at ease.
Why Should You Choose KidsGuard Pro for Android
Using KidsGuard Pro for Android will
not require you to know the password
of the said Snapchat business relationship since it monitors the cell telephone itself.
Information technology will non make the target user log out of their account. Quite convenient and safe!
The app volition
stay hidden
after installation and work from the groundwork of the device, sending you all the gathered Snapchat information without notifying the user.
The app is also easily accessible. Along with that the setup and installation are pretty easy – but about 3 minutes.
You won't even have to stay close to the target device or even touch it again for reading information, the app will keep rails of the target Snapchat business relationship remotely in
real-time.
If the target user has logged in to 2 different Snapchat account, you can check both.
Except for Snapchat, it also helps
monitor WhatsApp, Facebook, Instagram, etc.
More than social media apps, yous tin can check sentinel and search history on video apps
YouTube and TikTok.
You lot can use KidsGuard Pro for Android to
record surrounding alive, record calls, and record phone screen
to knowing everything on target phone.
Information technology is a
best keylogger
to record every words input, and
track keywords
y'all setup to know what someone searches for on the Internet.
Buy Now View Demo
Why is It Difficult to Log into Someone's Snapchat?
Snapchat is one of the globe's leading social media platforms equipped with a loftier level of security for protecting the interest of its millions of users. You lot have to realize the fact that information technology is a very difficult matter.
Before we dive into the feasibility of
logging into someone's Snapchat account
without them knowing, you should be enlightened of a few facts.
First, you lot need to know the user's account password.
If you want to login into someone'south Snapchat on your ain device and then you take to become the right Snapchat password for that business relationship info. It is not easy to know someone else's Snapchat business relationship. If that other person gives y'all the countersign, then it's all right only that is really a very rare case. Either you accept to cleverly look at the password when they are typing or you accept to approximate the countersign.
If it's someone shut to you, at that place are a few things you can try for guessing the password. If yous know other passwords that the person oftentimes uses, y'all can endeavor to enter them or go in the general direction. Sometimes, it's the initial of their names or nativity date or mobile number or name of their favorite pet. Attempt these, you may get lucky.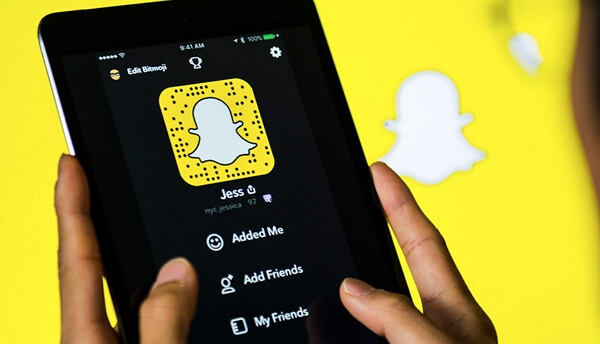 2nd, if you log in someone'southward Snapchat, they will be logged out.
Tin Snapchat be logged in on two devices? The reply is not. Social media accounts such equally Snapchat run on a principle that none of the accounts can be accessed from 2 IP addresses at the same time. So, if you lot have gotten into the business relationship, the actual user volition be locked out of their ain business relationship.
If Snapchat detects a new user login, they will immediately send an email to the associated email address, alerting you nigh the activity on your account. They will also ship you the IP accost, the brand of the device, and the model from which your business relationship was accessed. The e-mail will contain the exact date and fourth dimension.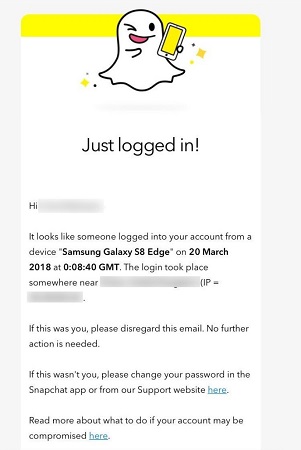 And then, in short, information technology is hard to log into someone's Snapchat without logging them out. When you log in, your device sends a ping to Snapchat's servers which makes a note that you've connected a new account. You would have to log out on i device then log in on some other. The good news is, in the in a higher place role, you have establish a creative style to log into Snapchat online on whatever device without letting others log out.
Buy Now View Demo
Related Read: How to Open A Snapchat without the Person Knowing?
FAQs on Logging in to Snapchat on Two Devices at the Same Time
In case you still have problems with Snapchat login issues, we've rounded up some of the questions people oft ask and answered appropriately. Hope they tin can help.
Q1: If I log into someones Snapchat will they know?
Information technology is very likely they volition know information technology. If Snapchat detects whatever suspicious login, the app sends an electronic mail to the associated email address immediately, notifying that someone only logged into your account. Merely when y'all access the same using a spy app like
KidsGuard Pro for Android, the user won't be notified and you won't be exposed.
Q2: Can you stay logged into Snapchat on 2 devices?
Official Snapchat account (owned by celebrities and big brands) can access the same Snapchat account beyond multiple devices. All the same, the general Snapchat account can only log into i device at a time.
Q3: How to become into Snapchat without password or electronic mail?
In the Snapchat login screen, you tin cull to enter a Login Code through an SMS text. Information technology will exist sent to the mobile number that's linked to that Snapchat account. It is convenient if y'all don't have the password or email to log in.
Q4: Is it illegal to log into someone's Snapchat?

No, logging into someone else'southward Snapchat account is not clearly listed as a criminal offense in any country'south legislation. However, it is an invasion of privacy, especially if the account owner is unaware of it. The legal action that can be done for this human action varies past country, and then familiarize the rules with your country.
Q5: Tin can y'all tell who logged into your Snapchat?
When someone logs in to your Snapchat account from a different location or device, Snapchat will transport an email with the login IP address, device name and mode, exact engagement and fourth dimension, location to your linked email address. Therefore, you'll be altered rapidly if there are any unusual behaviors.
Q6: Tin I check Snapchat action from multiple devices if using KidsGuard Pro?

Of form, KidsGuard Pro'due south spider web portal can be accessed from any device at any time. Y'all tin can sign in to the online business relationship from a mobile phone, a figurer or an iPad, etc.
Q7: Is KidsGuard Pro 100% undetectable?
Yes. The app icon will disappear after you install it on the target device, making it untraceable. Besides, since y'all don't have to know the Snapchat account password, there is no hazard to trigger Snapchat security alerts.
Q8: Except for Snapchat, what else can I do with KidsGuard Pro?

This comprehensive cell phone monitoring app allows you to check incoming outgoing messages, contacts, browser history; view photos and videos; track real-time locations; monitor popular social apps like WhatsApp, Facebook, Messenger, Instagram, etc. By clicking the View Demo button below, y'all can proceeds an in-depth understanding of how this app functions.
Buy Now View Demo
Can You Log in Snapchat on Two Devices
Source: https://www.clevguard.com/hack/how-to-log-into-someones-snapchat-without-logging-them-out/